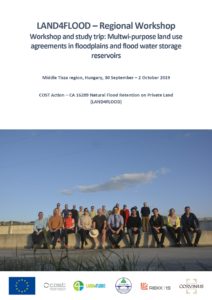 The workshop brought together two main groups of participants:
1) experts and stakeholders from European countries with experience in land use agreements in flood risk mitigation and
2) representatives of Hungarian water authorities who wished to learn about the respective practices of other countries.
The mutual exchange of knowledge and experience was supplemented with a field visit to learn about the flood defense solutions applied in the Middle Tisza region: flood peak polders, dyke systems and floodplain measures were explored.

Read the Workshop Report for more information!